Thank You!
Shared on 2 January 2023, by Ed
The last time we published a year-end review was in 2020. We have seen tremendous growth since then and could not have achieved this without your continued support. Thank you!
Key Stats and Trends
Yearly Usage

That's 10X growth in number of carts (we rounded, but only slightly), 30X growth in cart items, and 500X growth in the number of retailers we support.
And how much are you all spending? Well, a lot more than two years ago! In fact, total cart value grew 20X to nearly $160M in 2022.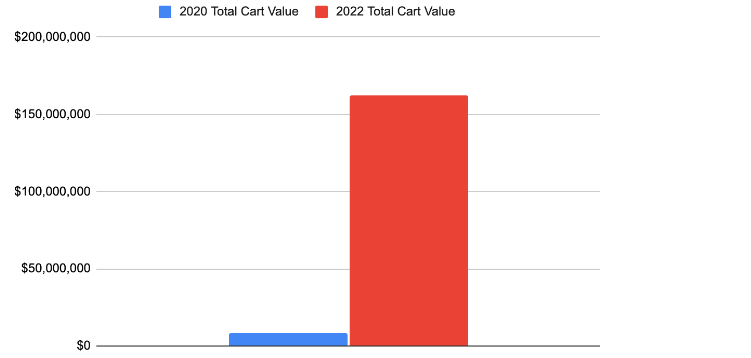 Retailer Growth
It's been a great year for Walmart. In 2020, a big portion of the carts we saw came from Amazon, but that has flipped completely. Because of the COVID pandemic, consumers started buying groceries online in droves. And even though we are past that stage, the change has been sticky. Consumers are now more comfortable doing their food shopping online. This is the reason for much of this Walmart growth. Kroger and Amazon's food retailers also made the list for the same reason.
Top Retailers by # of Carts Shared

Walmart also leads Amazon in # of items shared: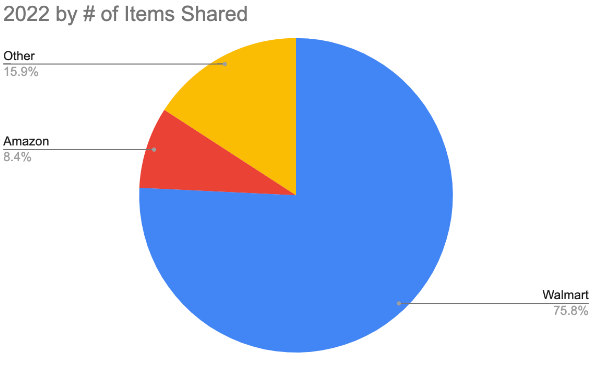 Who's Buying What?
Our users are interested in a wide variety of goods in the carts they share. Our fastest growing categories in 2022 were fashion, kids, and crafts.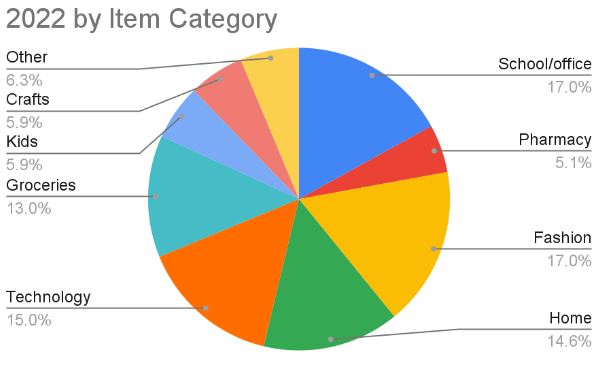 New Capabilities
We added many features to Share-A-Cart to make it easier for you to use and for you to save:
We added support for over 90 new retailers! This does not include any merchant that uses Shopify or BigCommerce storefronts which we now support. Including these, you can now use Share-A-Cart across 1,000,000 e-commerce sites. See the full list here.
We launched a price comparison feature that shows you ways you can save money. It's still in limited release, but we'll roll it out to all our users this year.
We re-branded our website to make it easier to find information. We think the new design is killer!
We launched full support for Share-A-Cart on iOS mobile devices. Now, you can get all the functionality you'd get on a laptop on your iPhones and iPads.
We supported the #clearthelist movement by sharing and funding classroom supply lists shared by teachers in need.
We're on task for even more in 2023!
Thanks again for your continued support. In 2023, we will double down on our mission to make shopping even more fun and easy for you. We love feedback, so feel free to drop us a line any time, or schedule a chat with us directly for even more details.