The Share-A-Cart website and family of browser extensions make it easy to accurately share a shopping list with your friends, family members, coworkers or anyone else, like fellow members of the PTA or the book club.
Quick Start with the website
The most common starting point with the website is our make page. See "Creating a List" section of our guide.
Quick Start with the extension
To get started, install the extension in your favorite browser. Share-A-Cart is available for most of the modern browsers such as Chrome, Edge, Safari, and Firefox. Shop at your favorite retailer as you normally would, adding items to your cart as if you're buying them. When you've collected everything you were looking for, instead of checking out, activate the extension from the browser toolbar and click "Create Cart ID". The items in your cart will be recorded and a code for sharing it will get generated. Using this 5-character code other people can view and load the same items into their own carts for purchase. Sharing is easy too. Click "Copy Code'' if you just want to message it to someone, or click "Share" to get a page with various options and quick-action links like sharing via email and various messenger apps.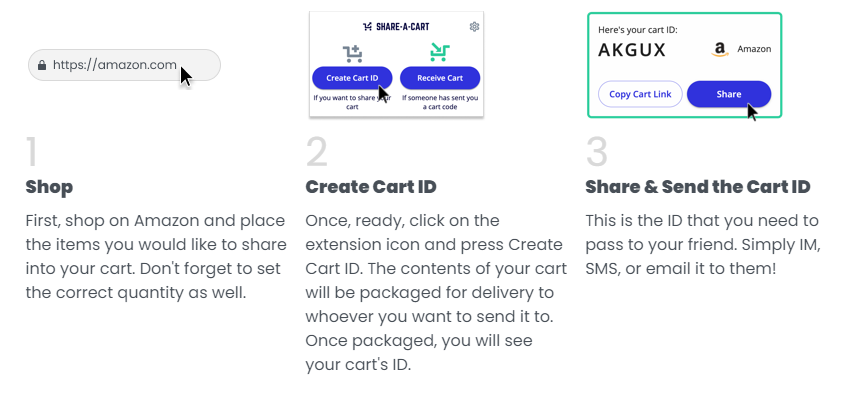 Note that none of your personal information is recorded. On top of that Share-A-Cart extensions and websites do not participate in any advertising networks. You're not tracked when you use our platform.
Receiving a cart is equally simple. Whoever you sent the code to can just plug it into the extension popup and click "Get Cart". To make this even smoother, send them a link via email or messenger app. The link always looks like this: https://share-a-cart.com/get/YOUR_CART_ID.
Extension installation
You may install the latest and greatest from our plugins page. If you have time, we would appreciate your feedback and a rating. Thank you kindly.
Up next:
Creating a List
Don't forget to review FAQ for solutions to most common problems. Still having an issue? Want to leave feedback?
Contact support