How to share Amazon cart?
Can I share my Amazon cart? How do I share Amazon cart? Is it possible to send my Amazon to someone else? How to share Amazon cart? Can I transfer Amazon cart to another account? How do I share my Amazon shopping cart?
Does Share-A-Cart support Amazon?
Yes, Share-A-Cart supports sending and receiving lists made for Amazon originating from amazon.com.
How does Share-A-Cart support Amazon?
Amazon is supported in a number of ways. First, Share-A-Cart for Amazon covers all of the Amazon multitude of various shopping carts. Next, Share-A-Cart for Everything allows you to send and receive Amazon main shopping cart. And last, Share-A-Cart for Groceries allows you send and receive grocery baskets such as Amazon Fresh and Amazon Whole Foods.
Additionally, the plugins work on all international Amazon marketplaces such as amazon.ca (Canada), amazon.co.uk (United Kingdom), amazon.com.au (Australia), amazon.com.br (Brazil), amazon.cn (China), amazon.fr (France), amazon.de (Germany), amazon.in (India), amazon.it (Italy), amazon.co.jp (Japan), amazon.com.mx (Mexico), amazon.nl (Netherlands), amazon.pl (Poland), amazon.sa (Saudi Arabia), amazon.sg (Singapore), amazon.es (Spain), amazon.se (Sweden), amazon.com.tr (Turkey), and amazon.ae (United Arab Emirates).
And this is how it works:

1. Shop
Shop with Amazon website and place desired items into your cart.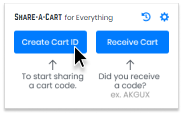 2. Create Cart ID
Install and open the Share-A-Cart browser plugin and create a new cart ID.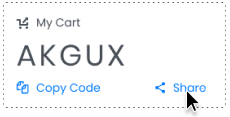 3. Share Cart ID
Share this code and your recipient will be able to load the contents of your cart!
Can I search for Amazon items on the site?
Yes, you may search through Amazon catalog on the "Make a new list" page.